Jack O'Neill
It is commonly accepted that Jack O'Neill, who was looking for a longer way to surf, buys a stock of foam under a friend's advice and makes little jacket out of it. His neoprene arrived, he hastened to cover it with PVC to solidify it and made his first vest. Satisfied with the result, he then made neoprene jackets which he sold in his simple store.

Jack had a surf shop (the first) in a garage in San Francisco, close to the beach. With his brother, he was tired of going to the water with woolen sweaters that they soaked with oil to protect themselves from the icy water!

Jack founded the "O'Neill" suit-making company in his garage in 1952, and moved to Santa Cruz in 1959 with the motto "It's always summer indoors".

While his surf shop is flourishing, Jack is a victim of a leash accident while surfing. He then began to wear a pirate headband that became the logo of his brand O'Neill. He continued to innovate and improve the quality and design of his products. In 1956, at a fair, his models, presented on his children in a pool filled with ice, will begin to have a great success.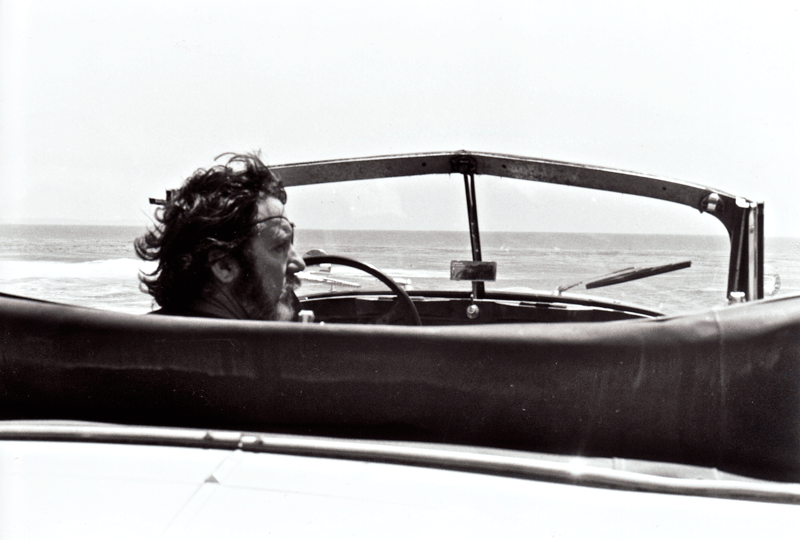 Hugh Brader
But in real, the first inventor of the wetsuit is a scientific from Berkeley University (California), who worked for the US Navy.

He understood that the body should not be completely dry under the suit and that neoprene was the ideal material. He founded a company with his colleagues, EDCO (Engineering Development Company), to market their invention, but did not file any patent.

But Brader did not believe much because for him the market was too small. Faced with very high manufacturing prices and little commercial talent, history has fallen by the wayside. He continued his life as a physicist and ocean scientist and his shell collection. He died at age 92 in San Diego in 2008.
The Meistrell brothers
Meanwhile two twin brothers also from California, but further south (Redondo Beach), Bob and Bill Meistrell, diving and surfing enthusiasts, had heard of Barder's experiences, had the idea to cut neoprene behind a fridge to make their first wetsuit. They too had a store, Dive N 'Surf at Redondo Beach and started selling their suits. At first they called them "Thermocline", but they could not get past their competitor, O'Neill. With the help of Hang Ten's founder, Duke Boyd, they created the Body Glove name and logo because their wetsuit "went like a glove".
The brothers Meistrell made combinations for professional divers, military, film actors and even some animals ... it is still a mythical brand in the United States.
The 70's & 80's
At that time, the suits are made of raw neoprene without nylon, thick and stiff, they irritated the surfers's arms. Without a zipper they were very difficult to put on, they tore up very easily and the surfers had to use talc not tear them. In front of all these inconveniences and the important price, many continued to surf without, and the surfers who used were treated as "girls".

Subsequently, the nylon was glued inside the combinations, which made their threading much simpler. The emergence of nylon on both sides in the 70s allowed a great diversity of colors, which culminated with the fluo in the 80s. Although some "real surfers" still preferred black, fashions and "clans" of color " appeared.

In 1970 the founders of Rip Curl, Doug Warbrick and Brian Singer, with friends (including Alan Green, the founder of Quicksilver) decide to make their own wetsuits with an old sewing machine. The surf was exploding in the United States and Australia and they wanted to have their share of the cake!

Non-zipper combinations were invented in 1989 by Body Glove.
More recently
New techniques for seams such as taping, gluing and blind seaming have been developed, which solves the problem of perforations of needle holes leaking water. Combinations without zippers were invented in 1989 by Body Glove. The zippers also passed on the shoulders and front for more comfort.

Today nylon is often replaced by spandex or lycra which are even more flexible. adding Titanium was another advance, reserved for competition suits. It's sewn into neoprene to capture a lot more body heat.

As the combinations have improved, it was only a matter of time for the ultimate solution - not just heat by insulation but also heat by heating.

The first heated wetsuit was introduced by Rip Curl in 2007. It is still produced and available but it seems that the production is turning more towards the heating vests that can be used in any combination and are cheaper and more versatile.
And to know, what happens today in France, listen to the people from "La green session" ! @lagreensession
​
https://www.lagreensession.com/quel-neoprene-combinaison-de-surf
​
​
Today ecological progress
but still marginal
Billabong has released a combination from the recycling of plastic bottles. The B9. Pantagonia launches a combination made of a natural rubber, from an 85% plant.

Recently, a greener version of the limestone-based neoprene called geoprene has also become available. In addition to being a bit better for the environment (the manufacturing process is still not 100% clean), it absorbs less water, is hotter, less waterproof and lasts longer. So far, only three companies I know use it in their costumes - Matuse, Patagonia and West. Neoprene made from limestone, is waterproof to 98%! This is a huge improvement over the oil-based neoprene which is only 65% ​​waterproof.

Another example: recently the sailing product brand Tribord (Decathlon) has partly replaced some plastics of its surf booties with crushed oyster shell powder. This powder enters for 15% in the composition of the liner.